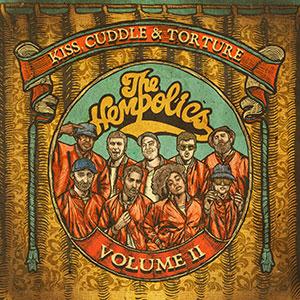 Three years after the release of their long player debut 'Kiss, Cuddle & Torture: Volume 1', hip London collective The Hempolics returns with successor 'Kiss, Cuddle & Torture: Volume 2', this time not released on Shark Free Records but on their own Zee Zee Records label.
Asked about the vibe and sound of this album, key figure and producer Grippa Layborn answered: "Musically I wanted to make something completely different to 'Boss Clock Me Style', which was one of the singles on our debut to make it onto the BBC Radio 6 Music Playlist. We wanted to make something fresh with an instant upbeat feel, and I also wanted the band to be more involved with the writing process.".
The resulting album sounds a little more eclectic than its predecessor, and not only stylistically, but also because of the greater variety of voices on offer. Of course, Nubiya Brandon, Dandelion and Harry Collier are still present, but this time Grippa also invited Dan Bowskill (the soulful 'Forever'), American rapper Cojack (the up-tempo hip-hop/house of 'Gotta Thing'), Tobago based Franz Jobe (among others, featured in the energetic reggae funk song 'Bongadashi', a made up term that refers to bad characters always preying on others), and finally Leeds-born singer-songwriter and MC LSK (Leigh Stephen Kenny), appearing in 'Get It Right' (super contagious Protoje-like disco-funk meets reggae) together with Nubiya and Dandelion.
In all honesty we still have to conclude that the songs featuring Nubiya (dubby opener 'Full Of Surprises', 'Strange Feeling', and our personal favorites from the track list, 'In The Night' and the great 'Play On', featuring a very catchy horn line played by Chain Ska Brassica's Lucas Petter - trombone, and Rory Pagan - saxophone) and Dandelion ('Vaporize My Dream'), appealed to us the most.
The Hempolics conclude with the over seven minutes long 'The Enemy', again with Nubiya on vocals, this time sharing a dark personal story over a slow dubby bass line.
With, 'Kiss, Cuddle & Torture: Volume 2', The Hempolics once again prove to be an absolute killer band and just as easily please fans of their debut as well as explore new musical horizons!