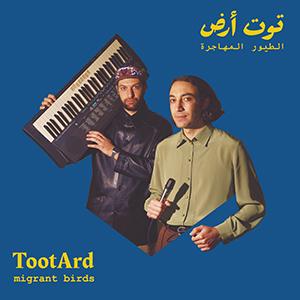 If predecessor 'Laissez Passer' was still clearly influenced by Tuareg blues, brothers Hasan and Rami Nakhleh took a completely different direction for successor 'Migrant Birds'.
Hasan explains: "After 'Laissez Passer', Rami and I started listening to different things, dance music and old disco. When we were little, we had compilations of 80s hits that we played over and over. We didn't know the artists, but we knew all the melodies and harmonies. A lot of that was dance music. Back then, our family had an Arabic synthesizer with the quarter-tones, called a PSR-62, Oriental Model that I loved to play as a kid. My family still has a similar one. I bought an Oriental and began messing around. That was how 'Migrant Birds' was born.".
Time jump to 1980! You're in a disco, maybe in Beirut, Cairo, or somewhere else in the Middle East, hypnotized by the colors and the lights, overwhelmed by the sound of drum machines and synthesizers. The atmosphere is intoxicating... but those days are long gone. Maybe it was even all a dream? The hedonistic nineteen eighties may form the catalyst of this album, but for the roots of the music we have to go even further back, leading us to the work of musicians like Egyptian Magdi al-Husseini and Lebanese Ihsan Al-Munzer, both pioneers in introducing the synthesizer in the Arab repertoire. Big influences, Hasan agrees: "They were definitely big influences on me. I write to carry on and do more with the sounds they brought!".
The title of the album revolves around a simple concept: "freedom": "We talked about birds migrating, and it started as something political. It grew into more: social, love, freedom and women, queer freedom. I left my village on the Golan Heights when I was 19, went to Jerusalem, then Haifa, before I moved to Europe six years ago. That's going for freedom. We're the migrant birds looking to find ourselves, but our parents are still back in the village and their life isn't ours any longer". The feeling of leaving is perfectly captured in a song like 'Wanderlust' featuring lyrics about life "on the road" that could easily have been excerpts from the oeuvre of author Jack Kerouac: "Now let the car count the miles, I've got my cup of coffee/Driven for a far unknown challenge, I shall never find my way back home".
But even though most of the tracks on 'Migrant Birds' sound festive and danceable, the brothers certainly don't shy away from serious or controversial subjects. In 'Babe', for instance, they give voice to the thoughts and feelings of an Arab woman, desperately looking for a way out to escape her dominant husband: "Oh my love/You are soft as a tank/So narrow has become our universe... I swear I will fly away with a balloon/Abandon my husband and country...".
With 'Stone Heap Of The Wild Cat', the track list also features a single instrumental. The somewhat enigmatic title is the English name of Rujm el-Hiri, a megalithic monument consisting of concentric circles situated on the Golan Heights in Israel.
Excellent album, proving TootArd are not afraid to put their necks on the line by exploring entirely different musical horizons!