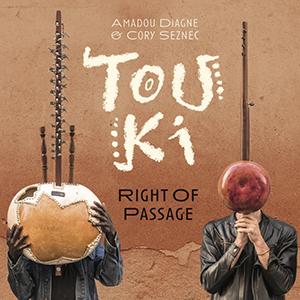 More than ten years ago Senegalese griot Amadou Diagne and French-American singer-songwriter, troubadour and multi-instrumentalist Cory Seznec met busking in the streets of the British town of Bath. After that cordial meeting in 2007, both musicians went their separate ways again, but fate allowed their paths to cross again and that eventually led to 'Right Of Passage', recorded under the aptly chosen band name Touki (Wolof for "journey").
After just a few days of rehearsing in Paris, the duo took to the Real World Studios in Wiltshire, where 13 tracks were recorded in just two long studio days. The title of the album refers to the millions of displaced people in search of a better life, continuously bumping into borders and hastily erected walls (something Amadou himself is no stranger to), but also to the fact that this odyssey can irrevocably count as a literal rite of passage. Apart from that, the title also highlights the musical journey Amadou and Corey have been on together and individually.
Diagne may originate from a family of Senegalese griot percussionists, the kora he plays nowadays (together with the acoustic guitar) was actually off-limits, so he taught himself an entirely unique playing technique. Corey, for his part, started his musical career as a fingerstyle guitarist and clawhammer banjoist, but the discovery of African fingerstyle techniques and a number of trips to various African countries (including a six-month stint in Ethiopia) made him question everything he's learned. Seznec's style became more and more syncopated, polyrhythmic and a cross-pollination of different influences, his approach less and less academic, and on 'Right Of Passage', apart from the guitar and the banjo, he also plays a so-called gourd-banjo or Mande banza, an instrument between two continents, designed by American musician Pete Ross.
As far as the songs on 'Right Of Passage' are concerned, some knowledge of Wolof might be recommended, but we'll do our best to lift the veil somewhat. Some songs from the track list have universal messages, like opener 'Samba', which tells the story of a Fulbe shepherd, who because of the persistent ravaging droughts decides to leave the arid countryside to find a job in Dakar, ending up in even more dire circumstances, 'Aduna', which warns against chasing easy money and other frivolities in the short time we're allotted, or 'Waxtaan', which talks about the dying tradition of solving problems in direct dialogue with one another. In some West African traditions, the whole community gathers under the Baobab tree to voice differences and resolve disputes, a form of basic diplomacy conducted with respect and dignity, behavior that seems to be declining rapidly in today's polarized world.
More personal are tracks like 'Tirailleur', which recounts the fate of the Senegalese Tirailleurs during and after the Second World War. The Tirailleurs Sénégalais were a corps of Senegalese infantrymen in the French army who, during the Battle of France, served with distinction at Gien, Bourges and Buzancais, and saw extensive service in West Africa, Italy and Corsica during 1944, as well as in the liberation of southern France. After the Liberation of France, the Tirailleurs concluded their service in Europe, being replaced with newly recruited French volunteers on the order of Charles de Gaulle; a process known as "blanchiment". The complicated process of discharge and repatriation of the Tirailleurs, coupled with the hardships faced by the soldiers in the winter of 1944 - 1945, led to several incidents of violence, most notably the Thiaroye massacre in 1944, a revolt that was bloodily crushed by the French colonial rulers and in which numerous Senegalese soldiers lost their lives.
For Amadou not just far-off history, as his own grandfather, Mass Mboup, still served in the unit. With 'Yaye Bouye' Diagne pays an emotional tribute to his mother, who passed way when he was only seven years old, and the concluding contemplative instrumental 'My Daughter' is dedicated to Amadou's daughter Safi, named after his mother.
We still recognized Corey's name from 'Gunfan Yellem!', Damakase's debut album, a project for which, among others, he collaborated with Ethiopian masenqo-player Endris Hassen, and that same Hassen now also appears on 'Right Of Passage', playing masenqo in 'Yaen Yalay' ("thank you" in Tigrinya, a northern Ethiopian language and a playful nod to Cory's time in Ethiopia), 'Machallah', a polyrhythmic ballad full of praise and gratitude for the "tree of life" (the baobab), and opener 'Samba'.
Of course, these kinds of collaborative projects have been around for quite a while now, but when it works, it simply works. 'Right Of Passage' features two craftsmen with a passion for their music, and then the result can only be top notch!