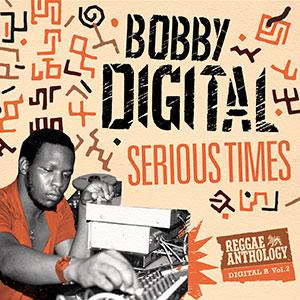 This second part in the 'Reggae Anthology' diptych around producer Bobby 'Digital' Dixon picks up where the first box left off.
We start off with get some more digital ragga by heroes from back in the day like Junior Tucker, Terry Ganzie, Bounty Killer and Terror Fabulous, but after Sanchez and Mikey Spice we finally arrive at the voice that would change Bobby Digital's musical direction for ever: "When Garnet Silk come into the studio I always get cold bumps... The conviction in his voice... It wasn't just a normal thing or false pretense business because the man delivered. He was God, and it's very sad he had to depart at that time and in that manner. Only the almighty know why, y'know?". Together with the singer, Digital recorded gems like 'Kingly Character', 'Mystic Chant' and 'Every Knee Shall Bow', but then in 1994 disaster struck when Silk loses his life while trying to save his mother from her burning home.

After Silk's tragic demise, Bobby continued to search for voices that reminded him of the late singer, ending up working with acts like Morgan Heritage (both their 'Protect Us Jah' album, as the iconic 'Don't Haffi Dread', which saw the producer return to live instrumentation, are Bobby Digital productions), Jah Mali (a collaboration resulting in the beautiful 'Treasure Box' album, released in 2000) and Ras Shiloh. Artists like Capleton ('Raggy Road', a version over the Heathen riddim) and Buju Banton ('till I'm Laid To Rest', Buju's version over the Kette Drum riddim), then both recent converts to the Boboshanti branch of the Rastafarian movement, also ended up in Digital's studio.

And then there was that young boboshanti who suddenly came to turn Bobby's life upside down: "When Sizzla first came to the studio, I wasn't there... I'd made two riddims for Shabba, and when I got back, my son was inside playing the tape for Sizzla, who was singing 'Black Woman & Child'. I was sitting outside, scratching my head and thinking: "What is this?", because when I hear him voice the song, I'm thinking this youth here is different. I try him out on a Studio One riddim after that and he do a song called 'Give Them The Ride' about the system, and how money make people go funny. Me think: "Wait, where this youth get these arguments from? This youth there is deep man!", because the lyrical content and how him deliver it was really something y'know? For him to pitch those lyrics Hey had to be well read and I knew from there that this kid was the next big thing.". Of course Bobby was right once again, and their collaboration yielded the now legendary 'Black Woman & Child', the album that put Sizzla's name on the world map back in 1997. And with 2002's equally successful 'Da Real Thing', the duo proved that album wasn't a fluke.

No bonus-DVD in this box, but a third disc with a Heathen riddim mega mix mixed by Irie Fm DJ Mighty Mike; pure nostalgia to be able to hear all these versions back to back once more!

In recent years, Digital's output has slowed down, but his son Giark is ready to take over the reins. Needless to say however that Bobby 'Digital' Dixon has left more than his mark on Jamaican music history. Maximum respect!