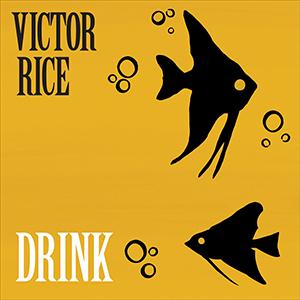 After 2017's excellent 'Smoke' album, Victor Rice returns with 'Drink', an almost perfect successor.
As for the title of this new long-player, Rice explains: "Most of these songs were written during a difficult period in my life and there was a lot of drinking involved, so they were made under the influence of red wine; Once the sequence of songs were finished, it felt like a story arc, from the first glass to the last; fun, manic, introspective, lamentable and a feeling of hopefulness at the end of it all". The fact the first single of the album is entitled 'Bebida', Portuguese for "drink", should therefore come as no surprise.
Just like for 'Smoke', part of the production work for 'Drink' once again took place at the Pum Pum Hotel recording studio, but tracks like 'Simão' and 'Madrid' were recorded in Ticklah's studio in Brooklyn with contributions from Rice's good friend guitarist Teddy Kumpel.
Victor finished the album in his home base São Paulo in Brazil, where he collaborated with some of his favorite local musicians. In 'Bebida' you can hear keyboardist Agenor De Lorenzi and tenor saxophonist Marcelo Freitas. Marcelo Freitas can also be heard in opener 'La Mura' together with trumpeter Paulo Viveiro, and the whole album was mastered by Brazilian sound engineer Fernando Sanches.
Another album full of delicious samba-rocksteady ('Bebida') and ska ('The Demander') with a solid dash of jazz where needed ('Bebida', 'This Is Fine') and even some americana in 'Simão', an ode to Victor's Siamese cat, the apple of his eye.
We're already dying to know if a green 'Eat' album will follow...