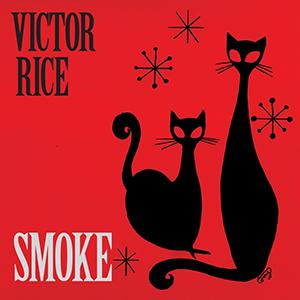 If you're not averse to a bit of instrumental ska and rocksteady, why not give Victor Rice's 'Smoke' a try? Victor Rice is a born New Yorker and made a name for himself in the so-called third wave ska revival of the nineteen eighties, both as a bass player for bands like Scofflaws, Stubborn All-Stars and New York Ska Jazz Ensemble, and as producer for, among others, The Pietasters, The Slackers, The Adjusters and Epitones. After a period in which he mainly focused on work as a composer and sound designer for television productions, Rice moved to São Paulo, Brazil in 2002, where he remained active as a producer for both Brazilian (Bixiga 70, Pitshú, Marcelo Camelo, Mallu Magalhães...) and international artists (The Slackers, Dr. Ring-Ding, Proyecto Secreto, Dave Hillyard, Corey Harris, Two Tone Club, The Moon Invaders...), and as a bass player for local ska and reggae band Firebug and Easy Star All-Stars. In all those years, Rice only produced a handful of solo albums.
For the songs on the entirely instrumental 'Smoke', Victor created an organic synthesis of the influences from his career; a mix of ska, rocksteady, jazz and Brazilian bossa nova and samba. But there's also a Belgian side to 'Smoke', as Rice recorded the album at the Pum Pum Hotel recording studio in Charleroi, founded in 2008 by ex-The Moon Invaders drummer Nico Leonard. The two met in 2003, when Leonard invited Rice to Belgium a first time to produce The Moon Invaders' self-titled debut album. For 'Smoke' Nico reunited a number of musicians from The Moon Invaders line-up (David Loos - tenor-sax, David Manghi - trombone, Sergio Raimundo - keys, Mike Bridoux - guitar). In addition, you'll hear the sax of Tommy Tornado, described by Rice as: "…my wild card, my Stan Getz!", the trombone of Turin-born Mr. T-Bone (Jamaican Liberation Orchestra, Guiliano Palina & The Bluebeaters), and Victor also invited two longtime collaborators Paul Gerhardt (alto-sax) and Rolf Langsjoen (trumpet).
Asked about the meaning of album title 'Smoke', Rice replied: "Nico is not a talkative person, something I really enjoy. When we're on our smoke break, it can get really quiet because we're listening to ideas in our heads. Many ideas on this record were born in these silent moments. Also 'Smoke' because I hung out a lot at the Smoke jazz & supper club on Broadway in the nineteen nineties when it was still called Augie's. Chess, cigarettes and jazz every night. I think I learned a lot about sonority at that club, the musicians were always exceptional!". Excellent instrumental easy listening album that seems to stem from another era and the ideal soundtrack to wake up to on a cold Sunday morning!