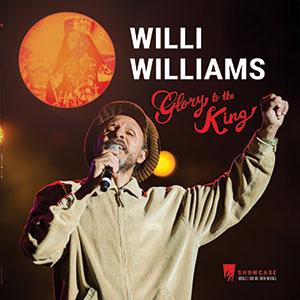 A collaboration between Willi Williams and Roberto Sanchez? A scintillating combination, to say the least, and 'Glory To The King' has become one of the absolute roots gems of 2020.
As was already the case with his productions for Earl Sixteen, The Viceroys or Noel Ellis, Sanchez once again opted for the showcase format, with each of Williams' six new tracks - songs sounding as if they could have come from his Studio One period - followed by an instrumental or dub version, allowing the musicians of the Lone Ark Riddim Force (Reuben 'Ras' Telford - keyboard and melodica, Mathias Liengme - Moog and clavinet, Broker Gee - organ, Gorka 'Junior G' Fernandez - trumpet and trombone, Saioa Jorrin - saxophone and flute, and Shanti Yalah, Pipe Hero and the late Dubby Ambassah, who passed away in May of this year - percussion) to shine.
The combination of xylophone with the melodica of Ras Telford in 'The Nansa Heritage' (the instrumental version of opener 'Don't Show Off') sounds like a composition from the heydays of Augustus Pablo, and the same goes for 'Deep Within', the instrumental counterpart of 'There's A Place', in which, this time, it's Basque musician Bass Lee playing the melodica. Junior G cuts loose on the trombone in 'Iration' and 'Blow Your Horn', and then there's the organ work of Booker Gee, who in 'Faith' comes very close to grandmaster Jackie Mittoo.
Instant classic and for yours truly one of the must have reggae albums of 2020. Maximum respect due!