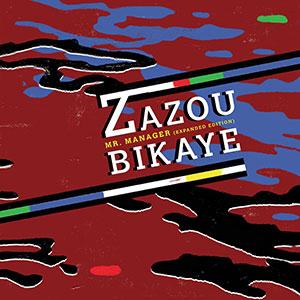 Three years after the re-issue of 'Noir Et Blanc', the 1983 long player debut of what was then still one-off project Zazou/Bikaye/CY1, Crammed Discs now presents this "expanded edition" of 'Mr. Manager'.
In 1985 the project around Congolese vocalist/composer Bony Bikaye and French musician and producer Hector Zazou had grown into a full-fledged band. By that time French electronics pioneers Guillaume Loizillon and Claude Micheli aka CY1 had quit the project (the latter is only mentioned as co-composer of 'Soki Akei'), but the void they left behind was excellently filled by Philippe De La Croix Herpin (saxophone/clarinet), Vincent Kenis (guitar, bass and accordion), Luc Van Lieshout (trumpet and harmonica), Marc Hollander (saxophone), percussionists Chris Joris and Bigoune, and backing vocalists Mwamba Kasuba, Nicole MT and M'Bombo K.
The changes in line up also meant the sound of Zazou Bikaye, as the band was now known, evolved from Afro-electro to digital afrobeat/funk. 'Mr. Manager' was originally released as a 5 track mini-album (nowadays called an EP) in 1985, but for this re-release those original songs were supplemented with no less than 10 (!) bonus tracks, consisting of a mix of songs recorded during the same recording sessions (originally intended for an LP release, but eventually never used), rare singles and remixes.
The title of the album, a metaphor for power and the dictatorship of economic profit, even 35 years later remains highly topical in the light of today's neo-capitalism.
An excellent time document from an era when both electronic and so-called "world music" were still in their infancy. Afro-Belgian pioneering work!